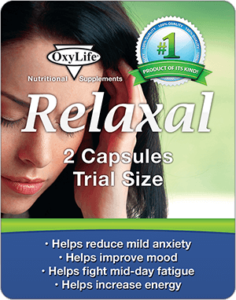 Stress and depression can cause a number of physical and psychological problems that lead to illness and eventually death, if left untreated. These are conditions that can cause you problems with eating, sleeping, working, and functioning in society. Relaxal is an all-natural blend of herbs formulated to help relieve stress and the depression that results from it — in a non-addictive way, with no physical side effects. It's a mix of 5-Hydroxytryprohan with B-complex vitamins, calcium and magnesium. The result of taking Relaxal is just what the name suggests: It helps you relax and enjoy life again.
According to the USDA Nutrient Database, the recommended serving of Relaxal provides:
1,000% of the adult RDA of Thiamin (Vitamin B-1)
882% of the RDA for Riboflavin (Vitamin B-2)
1,500% of the RDA for Vitamin B-6
300% of the RDA for Pantothenic Acid
75% of the RDA for Niacin
Health benefits of these nutrients:
Thiamin is needed for heart health
Riboflavin is necessary for healthy skin and eyesight
Vitamin B-6 is key to thinking clearly and overall mental health
Pantothenic Acid is key to having energy and mood regulation
Niacin is crucial to metabolism and preventing colds
Additional health benefits being studied:
Stress reduction: Scientists have noted the relationship between 5-Hydroxytryptophan (5-HTP) and activities of the central nervous system, such as synthesis of serotonin (which regulates sleep, anxiety, aggression, and other important functions); 5-HTP has been shown effective in treating insomnia and chronic headaches1. In Relaxal, the 5-HTP is not lab-produced but harvested from Griffonia Seed — an ideal natural solution.
Depression: Researchers are examining the links between certain chemicals and depression. Specifically, many teams are looking at the effects of Phenethylamine (PEA). PEA is a natural organic compound which acts as a neurotransmitter in your brain — it releases dopamine, which is of course necessary for thinking, mood (such as reduced anxiety), and overall mental health2.
As reported in the journal Alternative Medicine Review: A Journal of Clinical Therapeutics, Volume 3, Issue 4, 1998: "5-Hydroxytryptophan: a clinically-effective serotonin precursor" by T.C. Birdsall (Midwestern Regional Medical Center, Zion, IL).
As reported in the journal Neurochemical Research,Volume 18, Issue 12, 1993: "The potentiation of cortical neuron responses to noradrenaline by 2-phenylethylamine is independent of endogenous noradrenaline" by I.A. Paterson (Neuropsychiatric Research Unit, University of Saskatchewan, Saskatoon, Canada).
Please email us at Samples@OxyLifeco.com